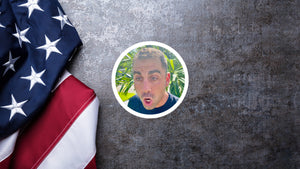 Comedian, Political Commentator, Speaker & Video Creator
Bobby Sausalito ® Official Store
Literal garb that represents your all your favorite hot garb.
Your neighborhood clownshoe has compiled a collection of his favorite catchphrases on an assortment of miscellaneous garb.  Represent Bobby Sauce, show love and bring some laughs to a crazy, mixed up world.
Who is this idiot?
Bobby Sausalito ®
Bobby Sausalito is a Comedian, political commentator and Internet personality most notably recognized on Instagram as @takenaps.
He is a self-proclaimed "loud mouthed New England guido" living in South Florida and making comedy videos about politics, the economy, current events, real estate, roasting, travel and dubious guido observations.
About Bobby Sauce
Appreciate my work? Leave a Tip!
Tips
Easily use PayPal, Google Pay, Amazon Pay, Apple Pay, Credit Cards and more.
Leave a Tip
Cash App $takenaps
Scan with your mobile device or click the button to leave a Tip using Cash App
Tip $takenaps on Cash App
Venmo @takenaps
Scan with your mobile device to leave a Tip